There is no age limit when it comes to art, which is why ArtPrize, Grand Rapids' international art competition, is the perfect destination for you and your family this fall. With nearly 200 venues housing over a thousand pieces of art each year, you'll leave with plenty to talk about around your dinner table. But seeing that much artwork can certainly be overwhelming, so here are our best tips and tricks for visiting ArtPrize with your family this year: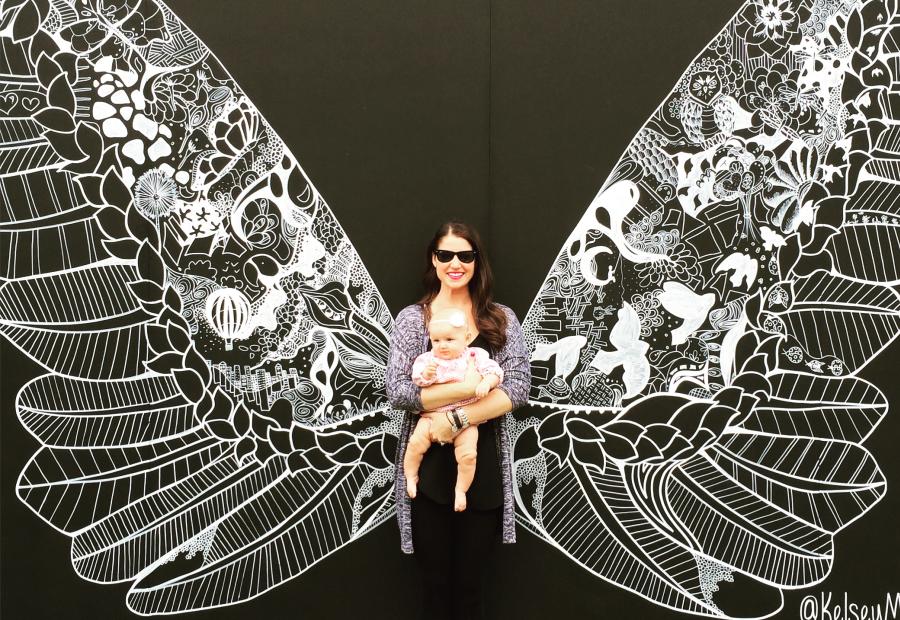 Don't forget to take advantage of the beautiful photo backdrops!
Photo by Nichole Kladder
Visit www.artprize.org
Where to begin? Before you even buckle the kids in their car seats, check out the event online at ArtPrize.org. Here you can learn more about the event including special events, maps, top ten lists, family activities and much more.
Download the App
Next, download the free ArtPrize app to your smartphone, which will provide you with an interactive map that will help as you explore downtown Grand Rapids. You can also use the app to get directly involved with the event by voting. Voting for your favorite entries is a fun way for the whole family to interact with this unique competition and is something you can do together.
Transportation Downtown
Parking downtown even without the masses can certainly be stressful if you're not used to it. Thankfully, the folks at ArtPrize are here to help! ArtPrize has teamed with Grand Rapids public transportation system, The Rapid, to set up an inexpensive and easy-to-use bus metro pass system. At participating Meijer stores, you can park and ride the bus into downtown together!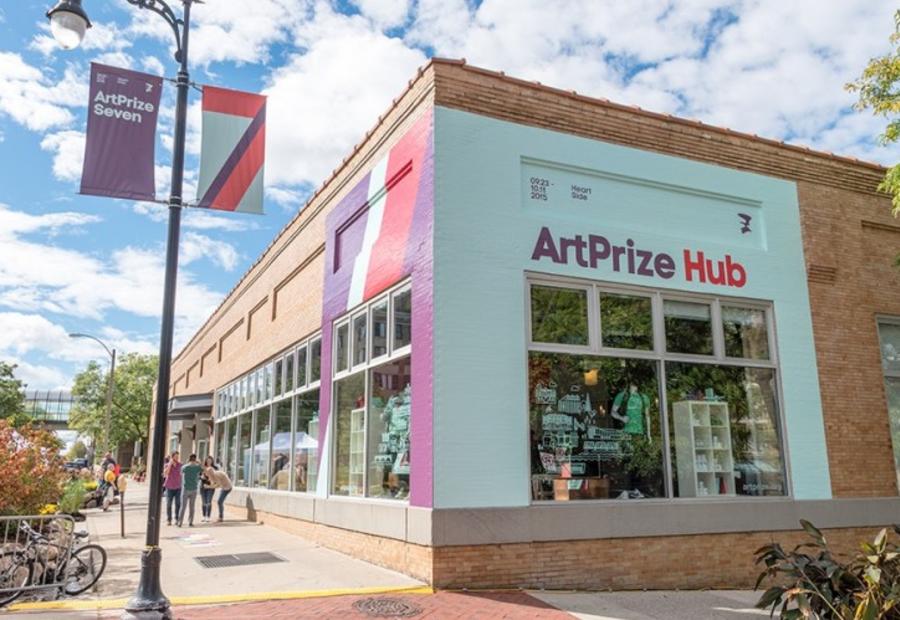 ArtPrize Hub
Photo by ArtPrize
Visit the Hub/HQ
The first stop on your visit to ArtPrize should be the ArtPrize Hub/HQ located at 41 Sheldon Avenue. This is a good place to make a pit stop (bathroom with changing stations and water fountains available to the public), get your ArtPrize swag at the gift shop, and most importantly, see the public vote winner from the previous year on display. ArtPrize volunteers, known as Wayfinders, can help get you oriented around the city and registered to vote if assistance is needed.
Where to Stay
If you're coming from out of town and need a place to rest with your family overnight, there are many options both downtown and close to the airport. It's common for the downtown locations to fill up quickly, especially on the weekends when the event is at its busiest. Those visiting ArtPrize over the weekend may want to take advantage of the hotel shuttle. Shuttles will be available Friday through Sunday to transport visitors from suburban hotels to a drop-off location downtown.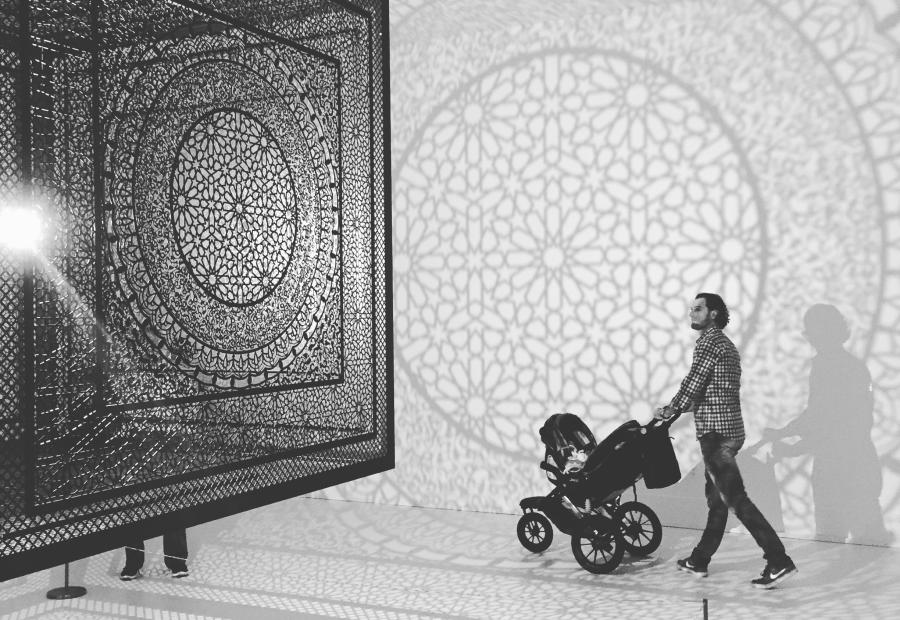 ArtPrize "Intersections" Grand Rapids Art Museum
Photo by Nichole Kladder
Must-See Locations
With nearly 200 venues to choose from, it can be difficult to narrow down your "must see" list. These are a few we recommend you keep on your priority list: the Grand Rapids Art Museum, Urban Institute of Contemporary Art, DeVos Place, Gerald R. Ford Presidential Museum, the Grand Rapids Public Museum, and Kendall College of Art & Design. All of these locations allow you to see a lot of art in one location, and they are stroller-friendly.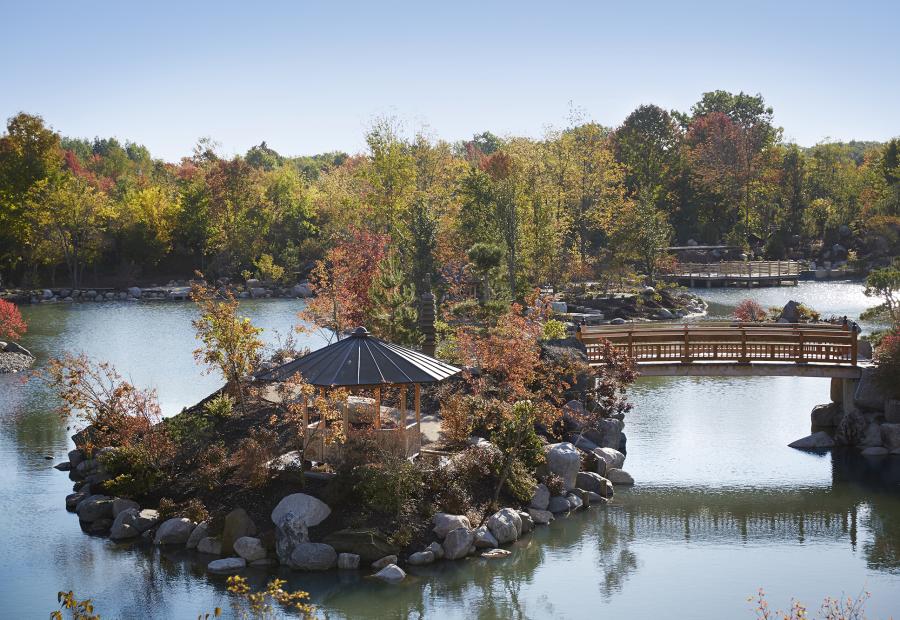 Frederik Meijer Gardens
Photo by Frederik Meijer Gardens and Sculpture Park
Don't Forget About Frederik Meijer Gardens
Despite its location outside of downtown Grand Rapids, Frederik Meijer Gardens & Sculpture Park offers an impressive ArtPrize collection each year that can't be missed. The gardens and artwork are expertly-curated and world-renowned. As an added bonus for families, it is also completely stroller-friendly. In addition to seeing the ArtPrize entries indoors, be sure to stop outdoors at the Lena Meijer Children's Garden where you'll find interactive fixtures such as a jungle gym, playhouse, and water display. Don't forget to check out Nina Akamu's The American Horse, the remarkably giant horse sculpture that's been attracting visitors from across the country or the stunning Japanese Gardens. Frederik Meijer Gardens & Sculpture Park can be reached by car and offers lots of on-site parking.
Be Sure to Visit GRkids.com
For more family-specific guides to ArtPrize and Grand Rapids in general, be sure to visit GRkids.com. GR Kids is a local blog written by parents for parents. This is a go-to site for lists of kid-friendly venues and art entries as well as its annual stroller tour guide. By checking these lists (which are typically available at the start of ArtPrize), you can be sure to avoid those less than kid-friendly art entries that might cause some uncomfortable moments.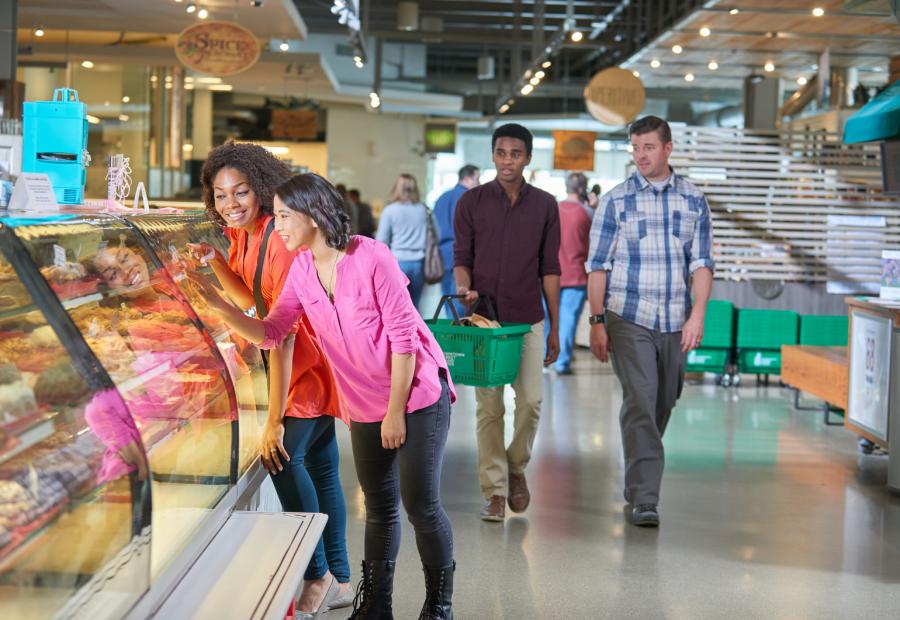 Friends and family shopping and exploring at Downtown Market
Photo by Experience Grand Rapids
Hungry? Where to Eat
You can't see art on an empty stomach, especially with kids in tow. There are plenty of family-friendly places to dine with your kids in downtown Grand Rapids. Some local favorites include:
You can search for additional downtown restaurants here.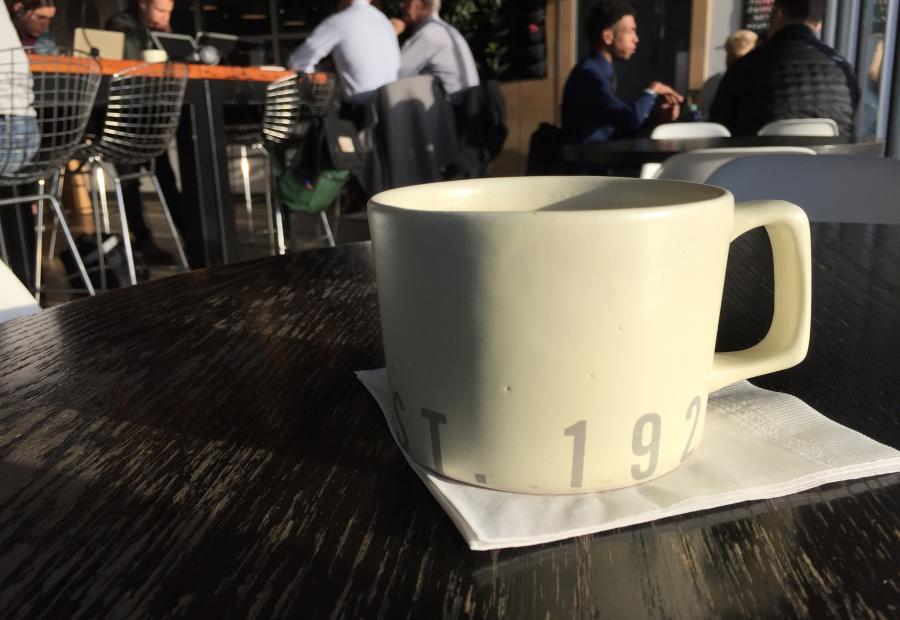 Ferris Coffee and Nut
Photo by Nichole Kladder
Need Fuel? Don't Forget Your Caffeine Fix!
And last but certainly not least, if you're nearing the end of the day and need a quick pick me up, check out these locations for high-quality caffeine:
You can search for additional downtown coffee shops here.
For a full list of ArtPrize activities as well as more information about downtown Grand Rapids' biggest event of the year, visit the Experience Grand Rapids ArtPrize page.
invalid widget [plugins_common_blog_subscription] []