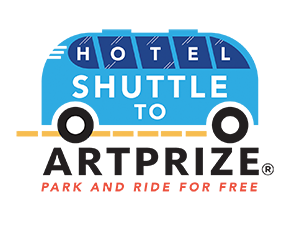 Fewer phrases can bring a bigger smile to a woman's face than "girls' weekend," and there's no better time for a girls' weekend than during ArtPrize. Besides exploring the three square miles of free art in and around downtown, there are countless other ways to enjoy a weekend with your ladies in Grand Rapids! In between checking out art at more than 160 ArtPrize venues, here are a few more ways to get the most out of your weekend getaway.
Transportation
Driving around in a new city can be difficult, especially with ArtPrize crowds. So don't! Book a room in one of the many hotels in Grand Rapids that offers free shuttle service Fridays through Sundays during ArtPrize. Just head to the park in ride locations 10 minutes from your hotel. The shuttle will then drive you downtown to ArtPrize.
Where to Begin
Start your day with a trip to the Downtown Market. This state-of-the-art center for fresh, local foods features an outdoor produce market and indoor retail hall with over 23 vendors, two full-service restaurants, and dozens of artisans in this LEED Gold certified building.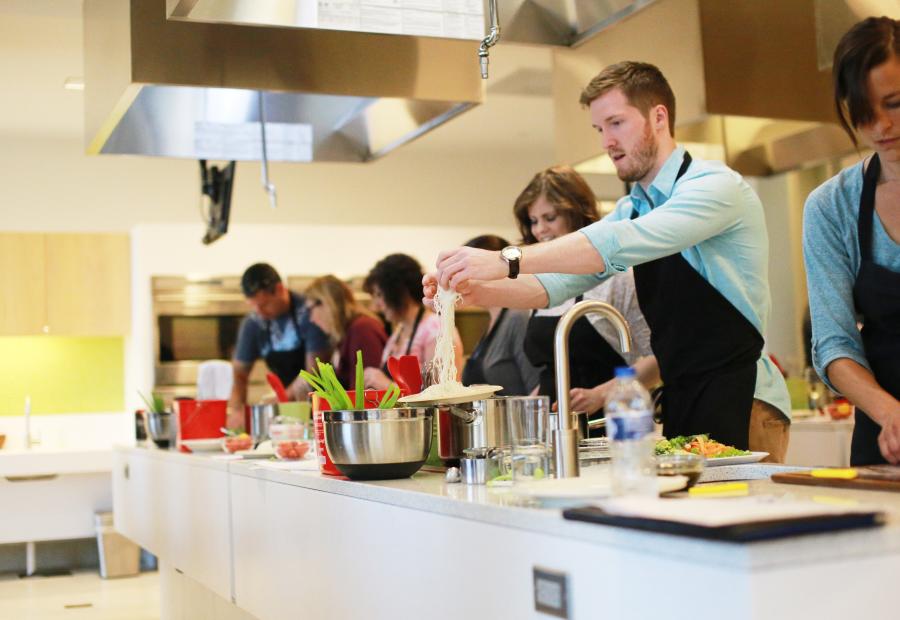 Downtown Market Cooking Class
Photo by photo courtesy of GR Downtown Market
Are you looking to have a little more fun in the kitchen? Grab five or more of your closest friends and sign up for cooking classes at Downtown Market or The Local Epicurean. You'll enjoy imported cheese, pesto, baguettes, and infused beverages during class while upping your culinary game. All skill levels are welcome in these hands-on classes.
Out and About
A beautiful fall day with bright sun, the changing leaves, and crisp air just begs to be enjoyed, and Grand Rapids is the perfect place to do just that. The proximity to both water and trails, not to mention the gorgeous golf courses, gives you so many options to enjoy nature.
Interested in learning more about what's going on in an artist's head? Then head over to the Grand Rapids Public Museum for Brain: The World Inside Your Head. Free with general admission, the exhibit takes you inside the mind to probe the geography of a giant brain and stand in the midst of its constant electrical brainstorm as thoughts are generated.
Staying In
Pampering is always in order, especially after a long day... or night. JW Marriott Grand Rapids offers two separate Brew and Renew spa packages to refresh your body and wet your whistle. Choose a pedicure or massage and body polish along with a cold brew to continue the relaxation.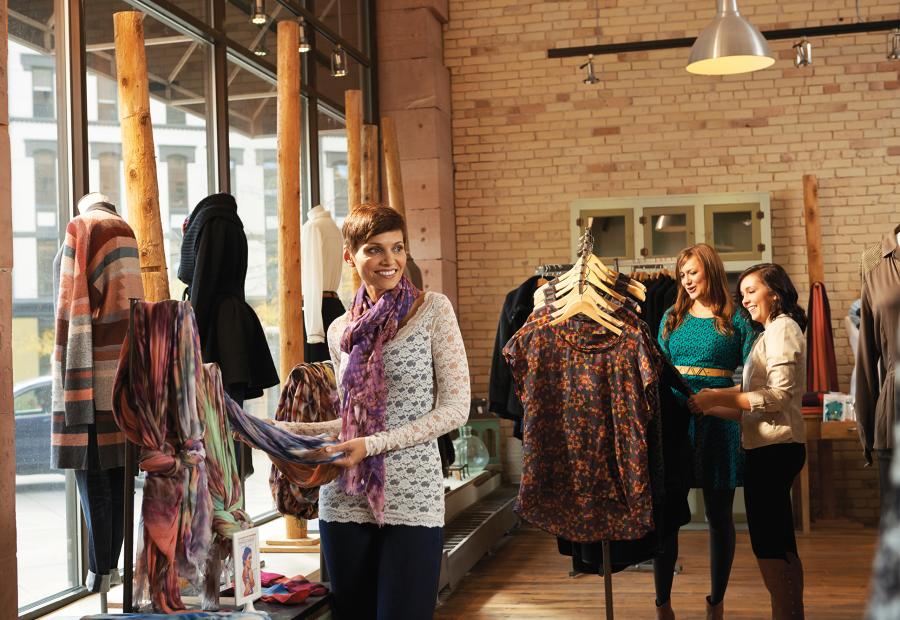 Lee and Birch
Photo by Experience Grand Rapids
Dressing Up (Or Down)
Need a new outfit for your night out? Of course you do! Downtown shopping offers everything from upscale boutiques in the Amway Grand Plaza to adorable treats for your four-legged friend at Fido & Stitch. If you want to give your pedicure a rest, take a short ride to Breton Village Shopping Center. With a blend of indoor and outdoor shopping, featuring local boutiques like JB and Me and national chains including Anthropologie, there is something for everyone.
Night Out
Now that you're refreshed, it's time for some evening fun. The dining scene in Grand Rapids has everything from farm-to-table dining at Grove to late night hot dogs at Yesterdog. One surefire way to liven up your night is to hit Mojo's Dueling Piano Bar and Restaurant Wednesday through Saturday nights. Sing and dance along to live music featuring some of the most popular songs from the 70s, 80s, 90s, and today as well as your song requests! 
From brewery and wine tours to live music, there are infinite ways to add to your girls' weekend in Grand Rapids during ArtPrize and throughout the year. For a full list of what's happening around Beer City, USA, check out the Experience Grand Rapids events calendar.