Cross-country skiing, snowmobiling and ice fishing are among the many popular winter sports in the Grand Rapids area. Whether you're a local or visiting Grand Rapids, when you want to venture outside for a little exercise and fresh air, you'll need gear. If you're not sure where to turn to purchase or rent equipment, are a few great places to find what you need as you embrace the great snowy outdoors.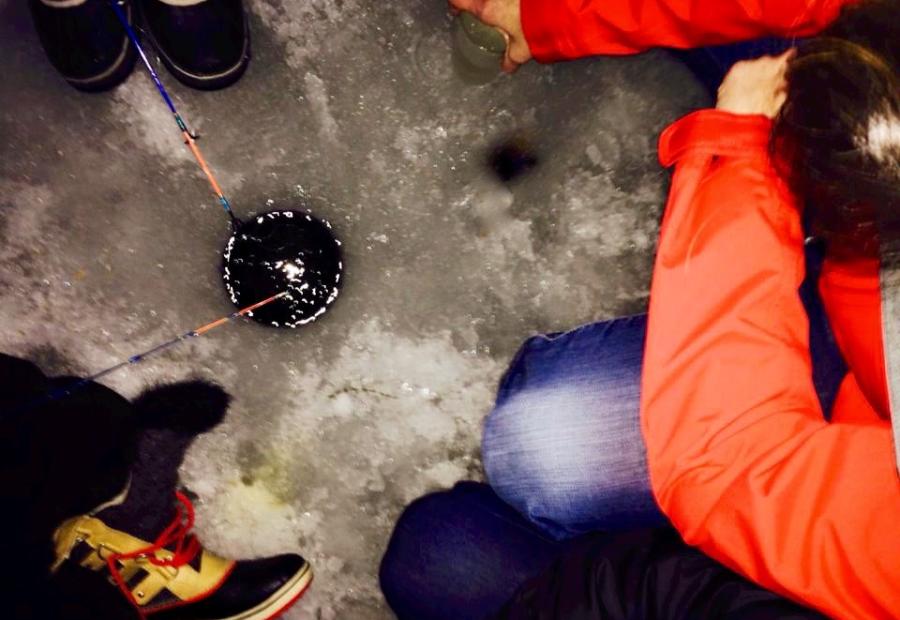 When my friends and I went ice fishing, I learned how to use an auger and was surprised at how cozy it is inside those little shanties!
Photo by photo credit: Kirsetin Morello
Ice Fishing
Lots of people in West Michigan love ice fishing, and I've had a great time doing it on a girls' weekend. My friend, Mandy, had all of the gear, which is essential for a good time – as is thick ice.
If you're ready to give ice fishing a try, talk to the experts at Al & Bob's Sports on South Division to find out what gear you absolutely need and what you can wait to purchase until you commit. Larger chain stores like Gander Mountain, just off of 28th Street in Kentwood, and Cabela's in Grandville, also carry ice fishing equipment. Reeds Lake in East Grand Rapids is a good place to cast your pole, as are Murray Lake, the third largest lake in Kent County, Big Wabasis Lake and Bostwick Lake.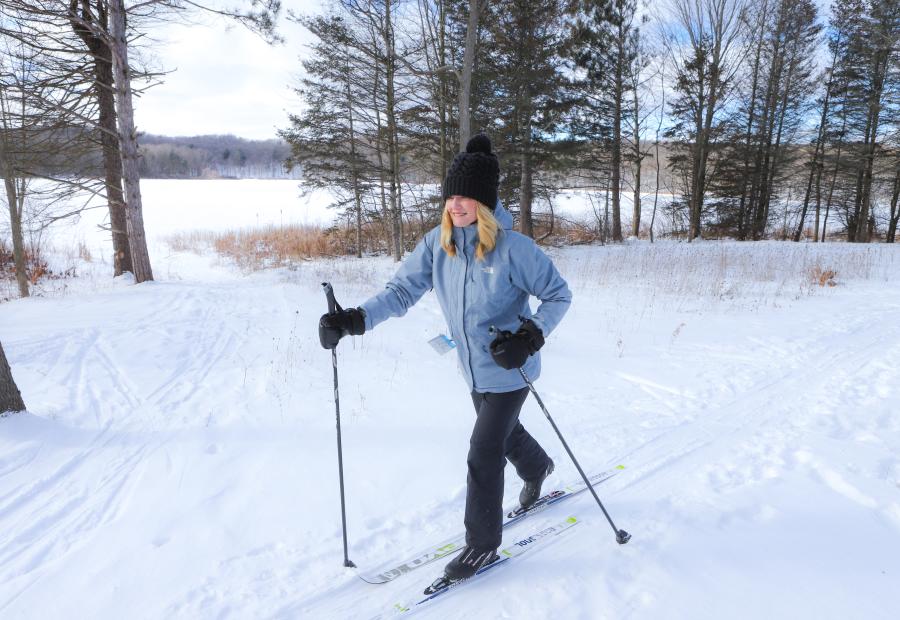 Whether you're into downhill or cross-country skiing, snowboarding, or snowshoeing, West Michigan has plenty of places to try!
Photo by Experience Grand Rapids
Skiing, Snowboarding & Snowshoeing
While ice fishing was a fun experience, snowshoeing is a little more my style. I'm also a decent downhill skier, and I'm planning to give cross-country skis a try this winter. If you're into any of these outdoor sports, or snowboarding, which is super popular but a little outside of my comfort zone, you'll want to visit Bill & Paul's Sporthaus. They sell and rent equipment for all of these outdoor winter sports and have lots of knowledgeable salespeople to help you determine which equipment best fits your needs.
If you're a novice interested cross-country skiing this year, Jon Holmes, Store Manager at Bill & Paul's, suggested several parks in different parts of town, including Seidman and Townsend Parks on the east side and Robinette's Orchard trails and the Cannonsburg State Game Area on the north end. "Cascade Peace Park off of Thornapple River Drive is beautiful, but hilly, so it's not best for new skiers," Holmes says. He also recommended Pigeon Park in Grand Haven. "It's a great place if you want to go out that far." Bill & Paul's offers a list of favorite local cross-country ski trails on their website and Kent County Parks maintains several trails for cross-county skilling.
You can also snowshoe at many of these parks. "Anyplace that grooms trails probably has a separate snowshoe trail," says Holmes. You should always avoid snowshoeing on cross-country ski trails or vice versa. Stick to the trail of the sport you've chosen for the day!
Participating in any of these sports can help make the long winter more pleasant. "People enjoy these winter sports because it's an activity where you get some exercise and aren't cooped up," Holmes explains. He said some people enjoy being outside more in the winter than the summertime because there are less bugs and fewer people. "You can explore someplace new, have a quieter natural experience, and justify some hot wine or cocoa afterwards."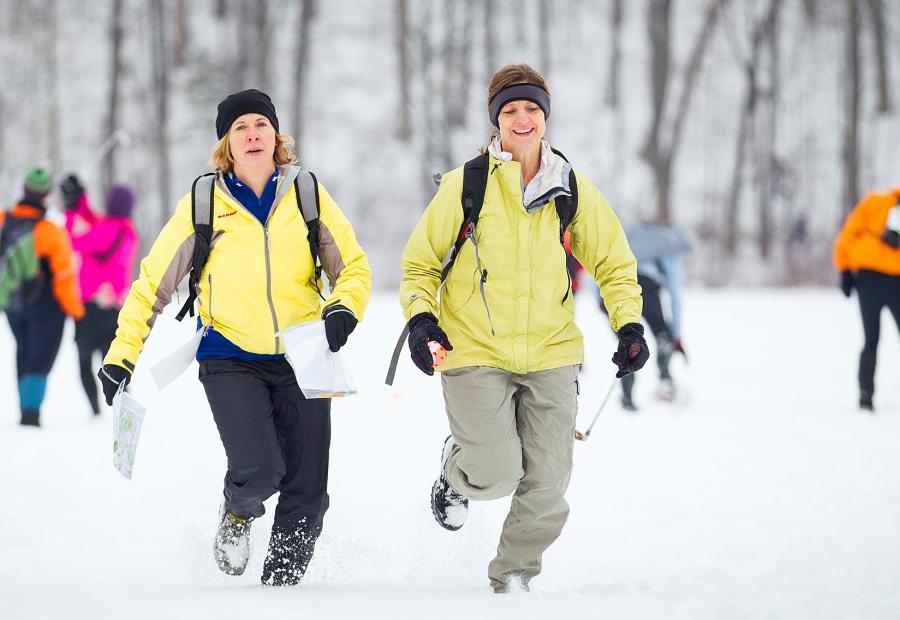 You'll definitely want the right gear if you participate in a Winter Adventure Race!
Photo by Jamie Geysbeek Photography
Outdoor Running
If you find outdoor running more appealing, Striders in Grandville and Gazelle Sports, on 28th Street in Kentwood, are both well-informed, helpful retailers. Rob Andro, Training Programs Coordinator at Gazelle Sports, says they sell five options for shoes for outdoor winter running. The first three are products that feature a rubber framework you slip onto the sole of your running shoe, including the popular Implus Yaktrax PRO, which have heavy duty steel coils to provide better traction, the Implus YakTrax RUN, with removable carbide steel spikes, and the NANOspikes by Kahtoola.
Another option is ice spikes. "They're basically sheet metal screws that you drill into the outside sole of your shoe," Andro explains. "You get really good traction on everything. They're easily the best option when it comes to nasty black ice." Because it's best to leave them in for the season, many runners use them with an older running shoe. The other option is to purchase a trail running shoe. "These typically have some kind of rock plate which provides stability in the insole and outsole," says Andro. "They'll also have deeper lugs so you get better traction."
There are plenty of places to run out-of-doors in the Grand Rapids area. Andro recommends trail running on the White Pine Trail and on the single tracks at parks like Pickerel Lake, Seidman Park, and Luton Park (one of my favorites for mountain biking in the summer). He says the Fred Meijer M-6 trail and the Paul Henry-Thornapple Trail, as well as sidewalks and roads, are good for running on a paved surface.
"Part of the allure of living in Michigan is experiencing all four seasons," says Andro. "I will be the first person out on a nasty snowy night. I'll throw on my trail shoes and go run and enjoy the snow and the beauty of the season."
His biggest tip for runners who are new to outdoor winter running is to dress like it's 20 degrees warmer than it is. "Otherwise, you'll overheat," he explains. "Dress in layers, if you can, so you have something moisture wicking against your body, a thin insulating layer on top of that, and a light windbreaker that's windproof and water resistant."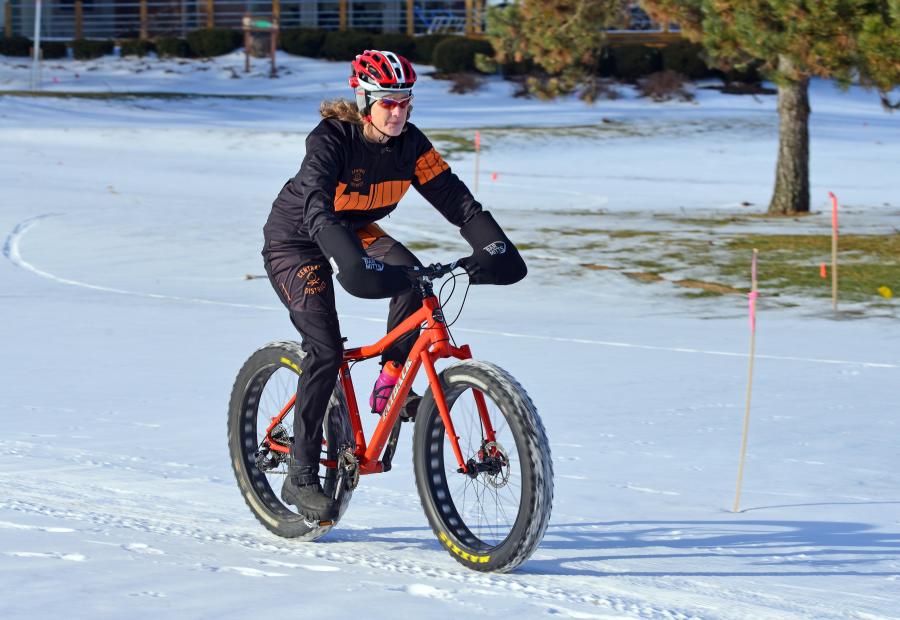 Fat tire biking at Indian Trails is a good way to get your winter workout!
Photo by Howard Meyerson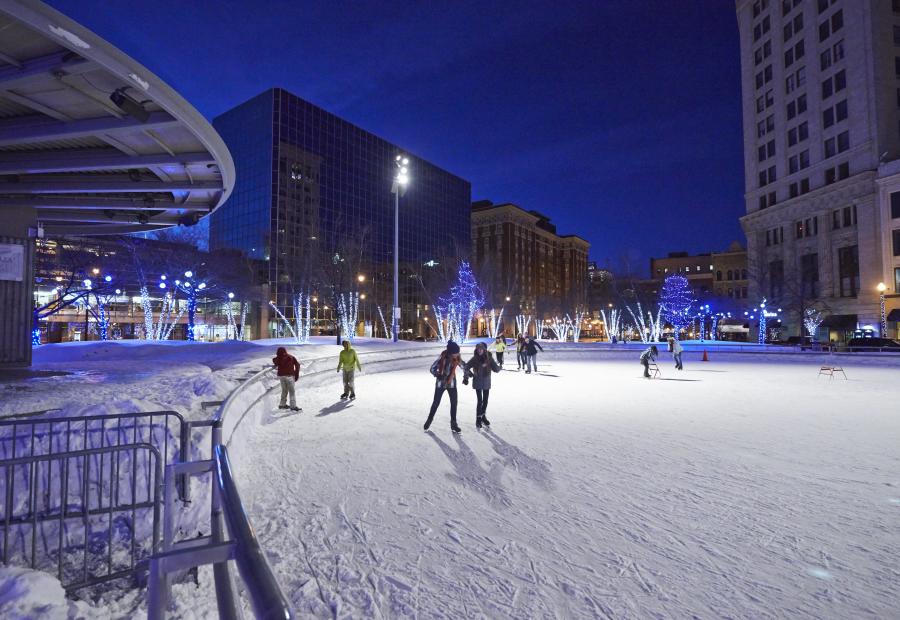 Ice skating at Rosa Parks is a good destination for a date, going out with friends, or a fun family event.
Photo by Experience Grand Rapids; Ecliptic (detail), Maya Lin
Outdoor Ice Skating
Rosa Parks Circle is a perfect outdoor ice skating venue and your skate rental is free with paid admission. For a smaller, family-friendly experience, bring your own skates and try the ice rink at Leonard Field in Ada. If you're up for driving a little farther, Millennium Park in Portage, south of Grand Rapids, features a refrigerated outdoor ice rink and also rents skates for the day.
Birdwatching & Snowmobiling
For a more laid-back activity, West Michigan has plenty of wooded areas, riverbanks and creeks, where birds tend to gather during the colder months. The Grand Rapids Audubon Club is a rich resource and their website lists recent sightings. You can currently click a link to follow the peregrine falcons in downtown Grand Rapids; there was also a recent snowy owl sighting near the intersection of M-6 and US-131. A few good spots to look for birds are Reeds Lake, Chief Hazy Cloud Park, Leslie E. Tassel Park (one of my kids' favorite spots), and the Wege Nature Center.
If spending quiet time in nature has you ready for more excitement, perhaps you're in the market for a snowmobile. In that case, head to Village Motorsports or Fox Powersports, where the outdoor excitement experts can guide you in the right direction.
Several of these stores sell outerwear and accessories, too, but if that's what you're looking for, be sure to check out the selection at Moosejaw, located not far from the Downtown Market, which is an ideal place to end a day of outdoor fun.
invalid widget [plugins_common_blog_subscription] []