Although I'm a relative newcomer to Grand Rapids, I am still a Midwesterner and I can tell you we're a practical bunch. Case in point: winter. Midwesterners make the best of this season with festivals, outdoor adventures, and warming food.
And while I am likely biased, if you're looking for an easy getaway over the long Valentine's Day and President's Day weekend, the Grand Rapids area is where you need to be. In fact, I can prove it to you with this weekend itinerary designed with adults in mind.
An important note before we start: Grand Rapids' restaurants have recently been able to open for indoor dining at 25% seating capacity (see our Travel Updates page for all guidelines for visiting GR). Combine this with the holiday weekend and you can expect restaurants to be busy. If a location is accepting reservations, even if they aren't mandatory, book them. If the place is first come, first serve, go early. Now, let's plan some travel!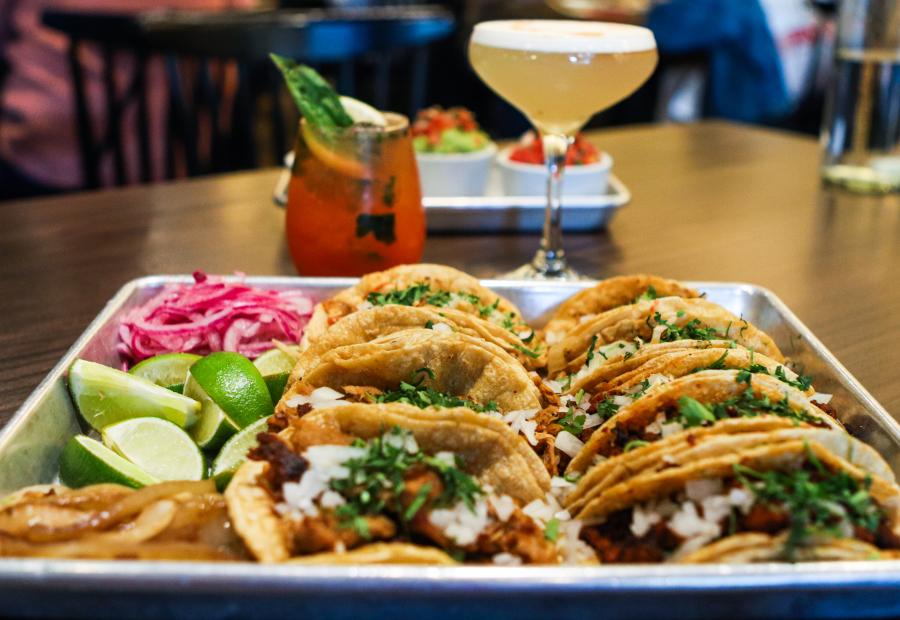 Luna is a favorite stop of mine for tacos and house-made margaritas.
Photo by Experience Grand Rapids
Friday: Exploring Downtown and World of Winter
While I think it's fun to stay Downtown, hotels in the suburban areas of the city are generally only a 15-20 minute car ride to the center of the city. I mention this because the Downtown area is where you're going to spend your first evening. Here's how:
Start by heading over to Luna, a much-loved local taqueria with a particularly good outdoor dining setup, in addition to offering indoor dining. Luna is one of many area restaurants that have developed their outdoor space to accommodate guests this time of year.
The restaurant makes it easy to order and pay via a touchless system and is served to you in to-go packaging for you to enjoy at your table. Most importantly--and the reason why you're there in the first place--the food is fantastic! As a vegetarian and a creature of habit, I almost always order their classic margarita and a sample of chips and salsa while I wait for my order of black bean and sweet potato tacos. Rest assured, my carnivorous friends rave about their pollo (chicken) and carne asada (steak) tacos, too.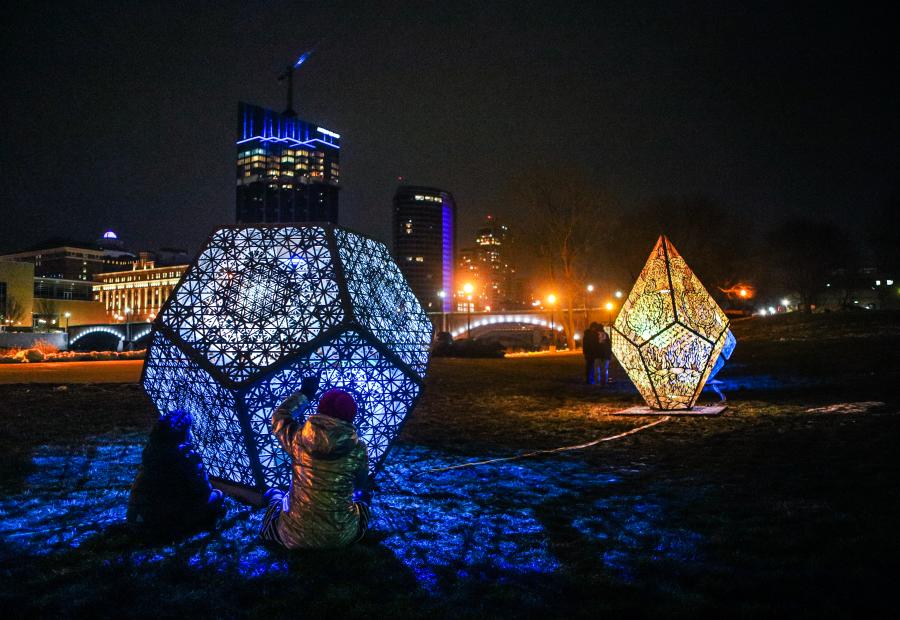 HYBYCOZO is one of the outdoor art instillations of World of Winter, a perfect post-dinner activity.
Photo by "Hybycozo's" Installation by Hybycozo Photography: Experience GR
Next, walk off dinner by taking in World of Winter outdoor art installations. The evening is an especially good time to view these installations as each one lights up the night in different ways. DGRI, the organization hosting the event has created a handy interactive map to help you find your way around. Coming from Luna, or any of the restaurants along Ionia, this is the order of stops I recommend:
Winter Tumbleweeds & Grasses by The Department – Barbara Lash & Sierra Cole on Grand Rapid's iconic Blue Bridge
Path of Encouragement by Andrea Zelenak along the south lawn of the Grand Rapids Public Museum
Grand Illuminations by Reb Roberts & Greg Smith lights up a rock cluster in the Grand River
HYBYCOZO by Hybycozo – Yelena Filipchuk and Serge Beaulier – feature intricate structures ranging from seven to 10 feet at Ah-Nab-Awen Park
The Lamplighter by Tyler Vanoor and Impulse - Seesaws by CREOS - Lateral Office, CD Design Inc. are both at 555 Monroe Ave NW
Singing Tree by Limbic Media at Canal Park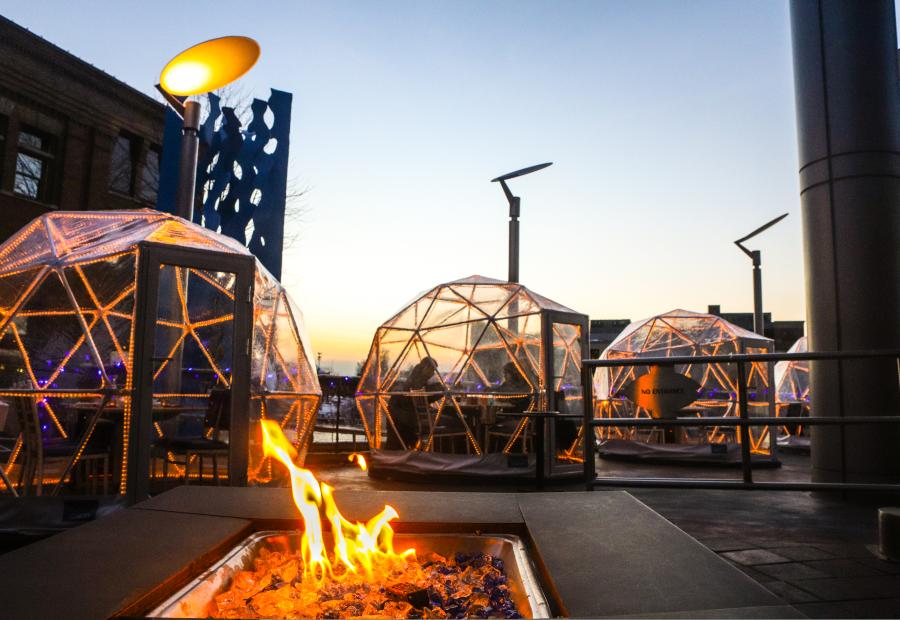 These super-cozy domes at Margaux are available by reservation and are a lovely way to end the evening.
Photo by Experience Grand Rapids
From there, you're in the perfect spot to head back to your hotel room, with options for a nightcap along the way. You could cross the street and grab a craft beer to go at City Built Brewing Company, which is part of the Monroe North Refreshment Area. Refreshment areas basically allow you to walk around the area with your adult beverage of choice, so long as you stay within the area and don't take it into other establishments. If you want to be closer to downtown, both Margaux and Reserve Wine & Food have especially cozy outdoor domes available by reservation. If those are hard to come by, you can stop by The Corner Bar or Flanagan's for a cocktail or beer to go for enjoyment in the Downtown Refreshment Area.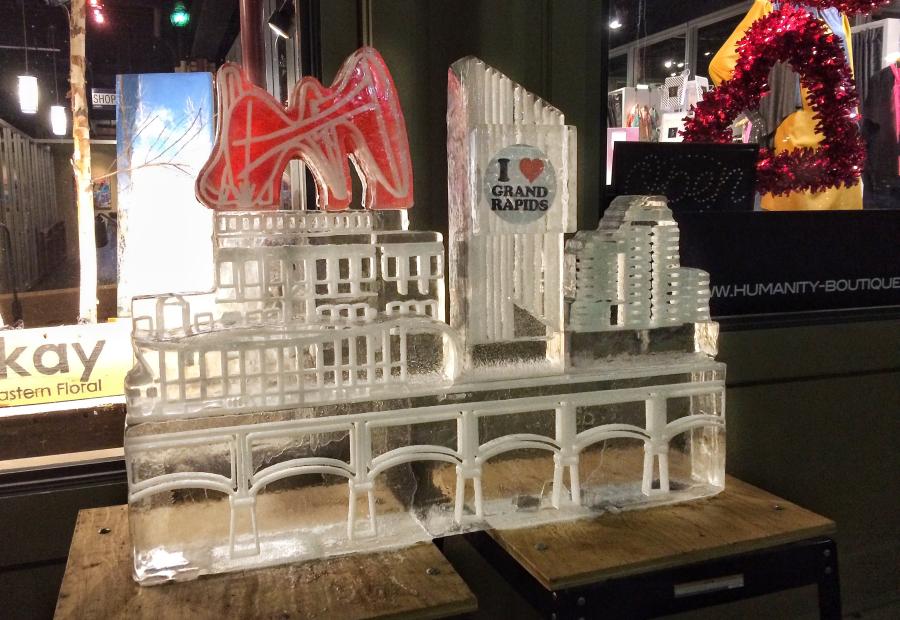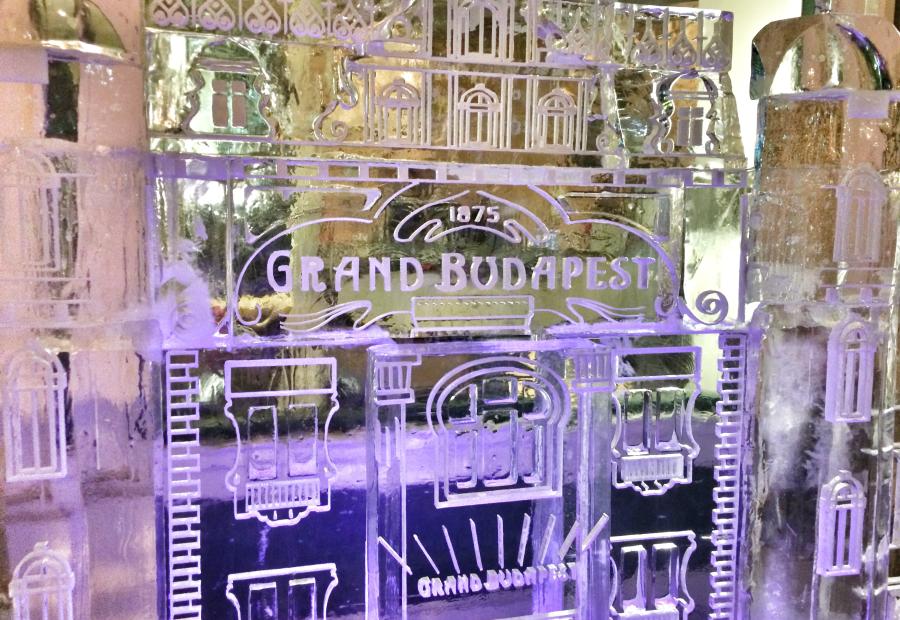 Checking out the Valent-Ice sculptures is a great way to explore the city.
Photo by Melody VanderWeide
Saturday: Touring Valent-Ice and Shopping Uptown
Today is all about urban exploration, so let's start with a hearty breakfast… or at least coffee.
San Chez Bistro's wide selection of menu items, including lots of vegetarian options, is a favorite of my husband and me. Do yourself a favor and try their coconut oil latte—it's so good and warming. While reservations aren't required, they are strongly encouraged and are easily made on their website.  If you're just needing a cup of coffee and a lighter bite, Ferris and Madcap are two locally-owned coffee shops that roast their own beans.
Valent-Ice is another World of Winter program featuring ice sculptures placed throughout the downtown area from February 12-15. You can plot your own route from this map, but if you're coming from San Chez, I would head east on Fulton to Division, then left onto Monroe to check out a great concentration of sculptures, while sipping on coffee to go. Make your way to Rosa Parks Circle to check out the 5,000-lb. ice sculpture, the subject of which is being voted on by the Grand Rapids area community.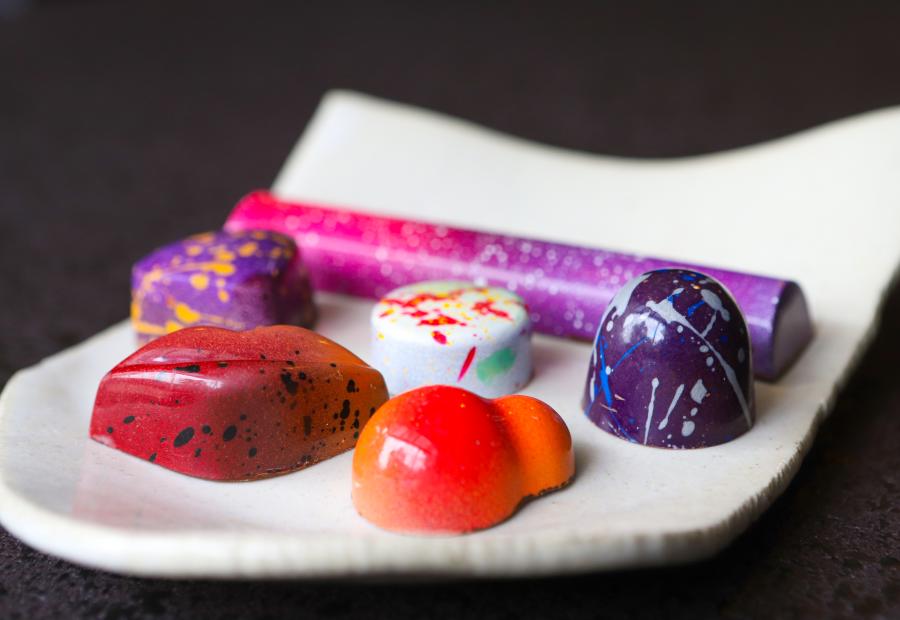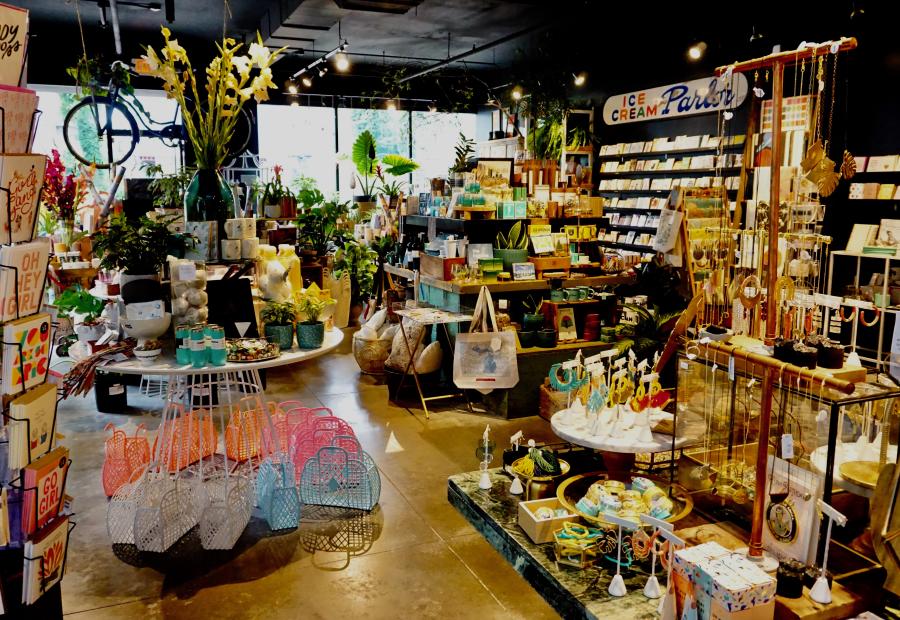 I like to enjoy a sweet treat from Mokaya (left) while I'm visiting local shops like Rebel (right) in the Uptown neighborhood.
Photo by Experience Grand Rapids
From there, it's about a 10-minute car ride to cover the two miles or so to the Uptown neighborhood. Even my husband, who is not much of a shopper, likes to join me. We also like to intermix our shopping with stops at neighborhood restaurants for coffee, snacks and meals. There are so many wonderful shops to visit in this area. Below represents the tiniest fraction of this area's delights, listed from closest to furthest from Downtown.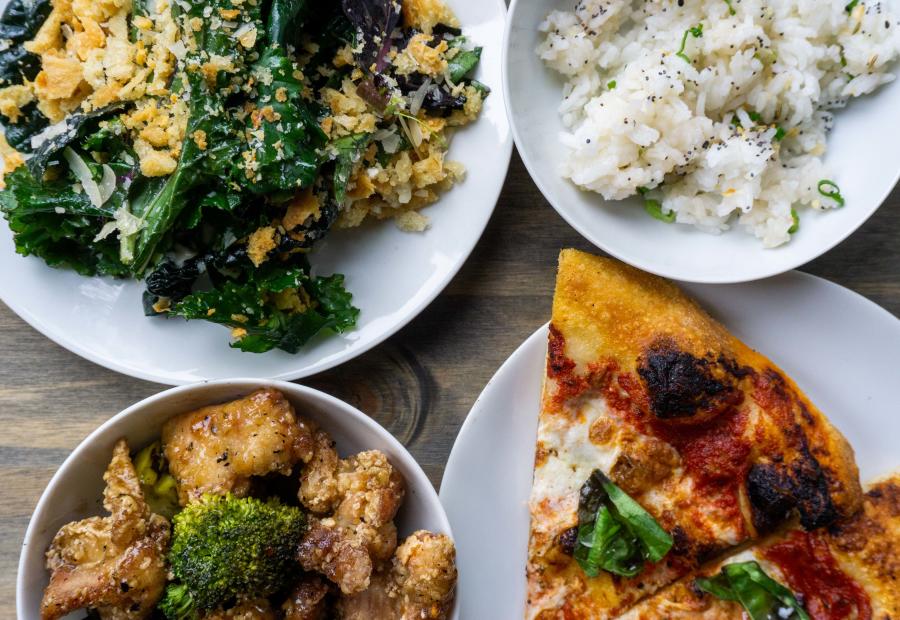 The focus on seasonal ingredients is a common value of many Grand Rapids area restaurants, like Terra pictured here.
Photo by Experience Grand Rapids
At this point, you're really close to one of my favorite places for dinner: Terra GR. Their menu changes weekly to take advantage of local, seasonal ingredients.
If a reservation is hard to come by, these other Uptown restaurants use local ingredients and are also great options: The Winchester, Brewery Vivant, Hancock, Green Well Gastro Pub, Maru Sushi, and Donkey Taqueria (in case you haven't gotten your fill of tacos). And don't forget, many of these places are offering takeout, and some, like Forty Acres, are take-out only, which means you can enjoy a fabulous dinner from the comfort of your hotel room.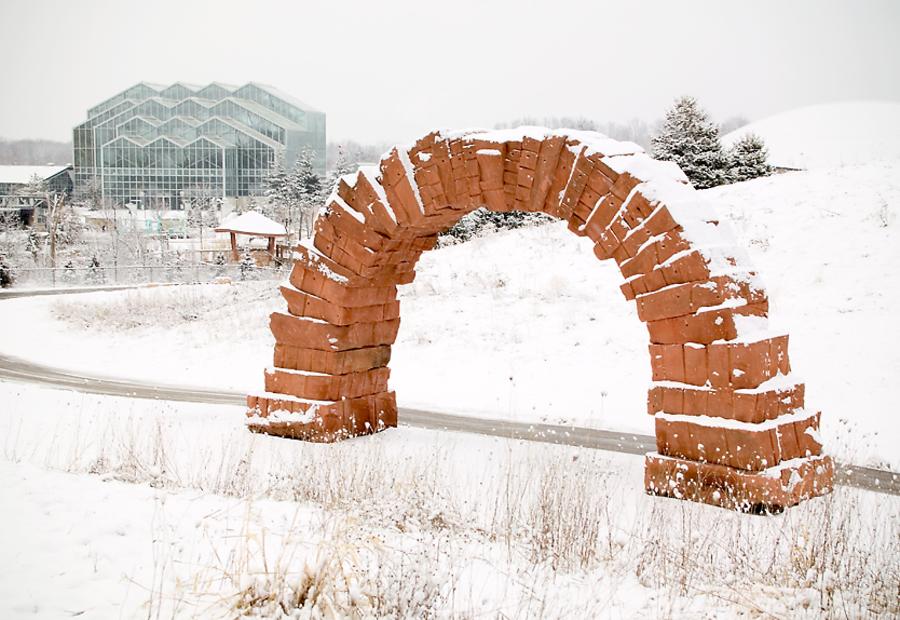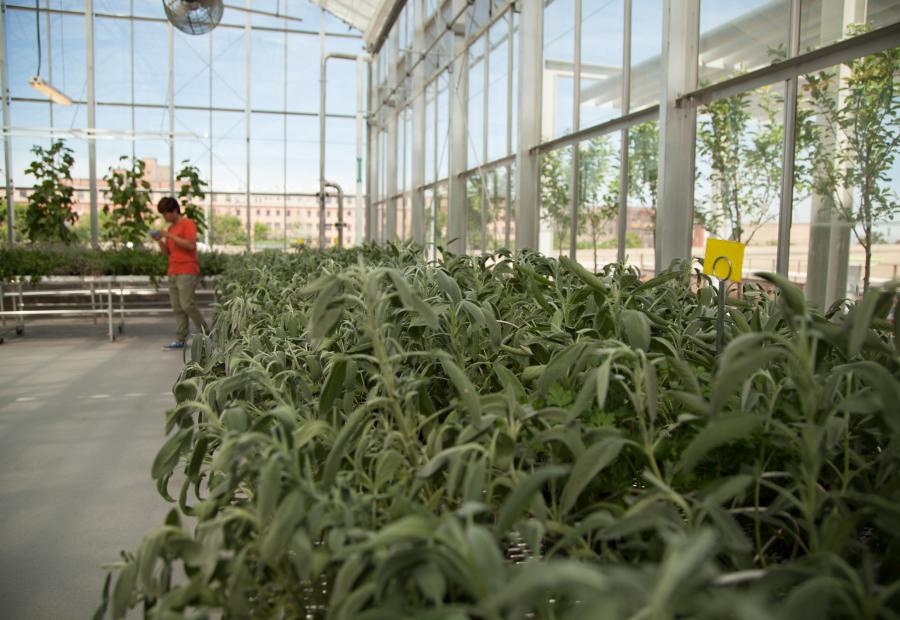 There's plenty to see and explore, both indoors and out, at Frederik Meijer Gardens & Sculpture Park.
Photo by William J. Herbert, Courtesy of Frederik Meijer Gardens & Sculpture
Sunday: Spending Time in Nature
Have a leisurely brunch and visit the West Side Neighborhood. These are some of my favorites for brunch spots in this area of town: Morning Belle, The Sovengard, Butcher's Union or One Bourbon.
You don't have to go far from the city to enjoy nature. Blandford Nature Center is about six miles out from downtown and generally less than a 15-minute car ride away. You can hike the trails or, depending on weather conditions, rent snowshoes for a wintery excursion.
A little further out of town is Cannonsburg Ski Area, where you can ski, snowboard, and tube down their pristine slopes. Cannonsburg rents equipment for all of the above, just note that tubing is available by online reservation only. They also have a winter trail system for fat biking, cross country skiing and snowshoeing with the purchase of a trail ticket.
Frederik Meijer Gardens & Sculpture Park has beautiful outdoor grounds and winter adds its own beauty. The sculpture park is also undergoing a multi-million dollar renovation to its visitor center that will be completed later this year. 
If you want even more ideas, this story on winter gear rentals also mentions places where you can put this gear to use.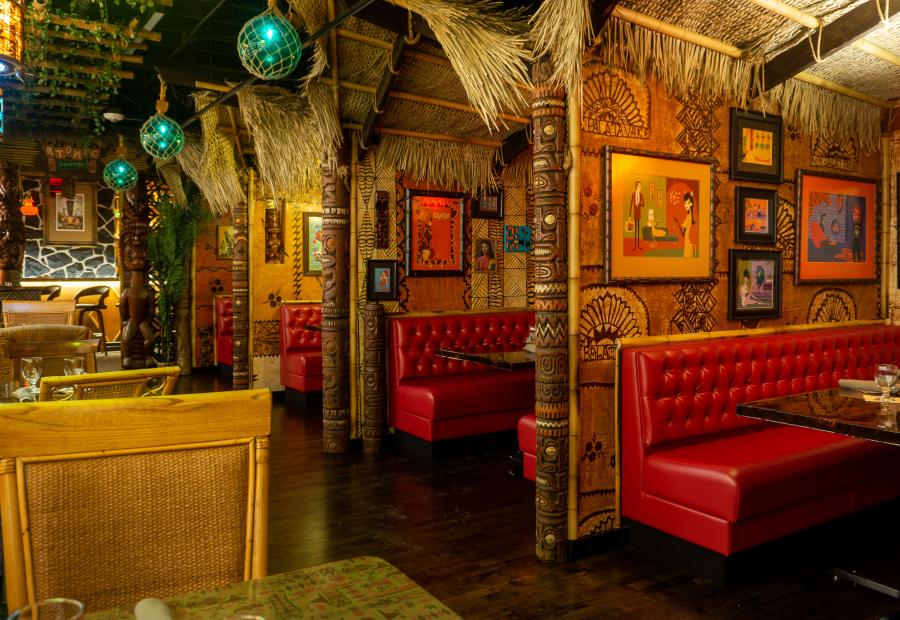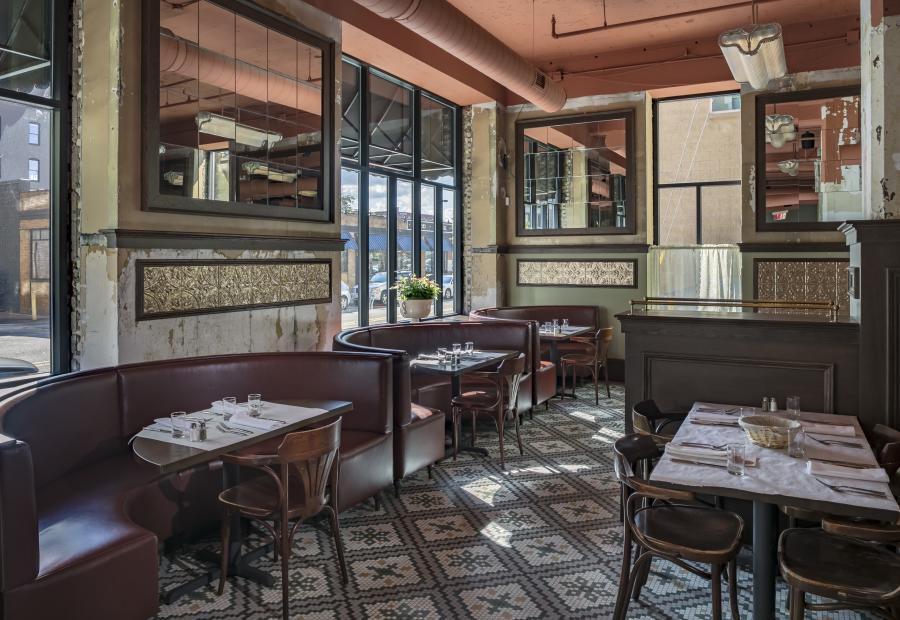 If you don't mind dining during off peak hours, you can still find reservations at many romantic restaurants like Max's Southseas Hideaway (left) or Mertens Prime (right).
Photo by Brian Craig for Experience Grand Rapids
Today being THE day (Valentine's Day), you might be looking for a romantic place for dinner and if you don't mind dining on the earlier or the later side, say 3 PM-4 PM or 8:00 PM or later, there are still reservations to be had at some of the romantic spots around town. First among them, Mertens Prime, who recently hired a James Beard award-winning cheg. While their focus is on steak, with credentials like that I am sure the vegetarian items on their menu are going to be spectacular. Other options that I find to be equally delicious and romantic: Divani, Max's Southseas Hideaway Bistro Bella Vita, and Osteria Rossa. 
What I love about going to do dinner on off-peak times is that there's time for another stop either before or after dinner. GR Noir, a jazz and wine bar, makes for a fantastic pre- or post-dinner stop. You could also head to One Twenty Three Tavern and Studio Park for Sunshine Alley, another World of Winter art installation intended to remind you of the tropics.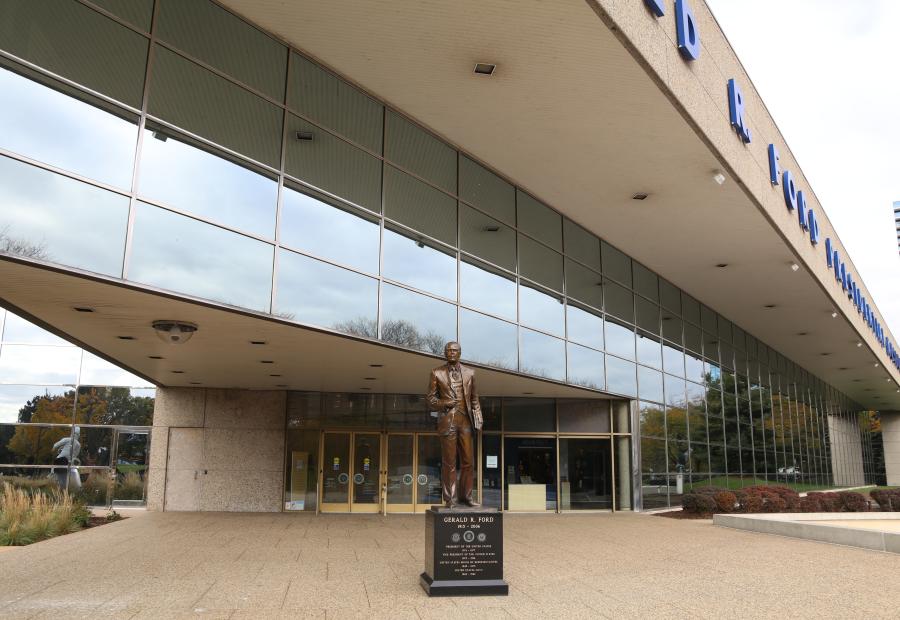 As the hometown of President Gerald R. Ford, Grand Rapids is one of the few cities in the county that can claim the honor of being the birthplace of a president.
Photo by Experience Grand Rapids
Monday: Heading Home
The weekend ends on President's Day and as the hometown of President Gerald R. Ford, you have a chance to take in a bit of presidential history before you head home.
First, head to Malamiah Juice Bar for one of their housemade juices (my faves are Rise and Shine and Face Lift) and an açaí bowl. Malamiah also serves coffee from Ferris and teas from Global Infusion for a dose of caffeine. Grab a beverage to go and take a stroll along the Riverwalk in front of the Gerald R. Ford Presidential Museum. Although the museum is temporarily closed as a result of the pandemic, President and Mrs. Ford are laid to rest on the grounds. While pausing there, in the heart of the city, think about your favorite parts of your weekend in the city; after all those memories are the best souvenir.
I'd love to hear your tips for long weekend getaways in Grand Rapids. Let me know in the comments below!
Editor's Note: This post was updated 02/12/2021 to remove the name of a store that is closed on the weekends
invalid widget [plugins_common_blog_subscription] []